Hey Guys!
Thats right, Adrastos and I are gonna make one Lucky guild member very happy, we have the prizes, we just need a winner!
What is the event?
Well to the first person to hit 1000 site points will get a choice of rewards, and we will pick the second place winner to take home the remaining prize.
How do i win?
Post, Post, Post! full details on how to get points found
Here
. The first to hit 1000 points wins, and whoever is in second at that time (regardless of points could be 500 as long as your second, we will let them get the prize that's left.
Whats the Loot?
Well your choice either:
Rank 4 weapon of your choice, with /24 temper, your choice to have it tempered buy me, before or after the 255 uses (easier to not have to repair it while using it 255 times, and i will hold the gems and temper it later if you prefer) Element of your choice Maxed, again your choice to have it done before or after using. when i go to buy the Type of weapon you choose i will try to get the best emblems possible, if you have a preference you can let me know, however i will be buying it and sometimes i wont be able to get the ones you want, so in that case i will use the wikki charts to see witch is best and go with that.
or:
+7 Body, we have a male and a female body ready just needs crafting completed, we will be keeping the body that dosn't go, for future event, this body will be Maxed Element (stat will depend on available scrolls/wards, sorry can't choose

, and will also be dyed green!! go shu!!

will be dyed to look like:
Will be dyed to look like :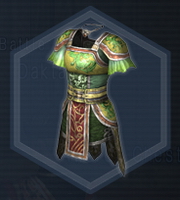 The winner will get to choose Body or weapon, Second place winner with get the left overs.
Who can win?
Well anyone in the guild, just need to post your way to the top, and bam! you win.
Adrastos, and I will be Administrating this event therefore we are both not able to win for obvious reasons.
Assassins, will be able to participate in this event, but future events they may not be, as they will be helping at that time maybe.
Anyone, spam posting, sending multiple PM's to them selfs, or cheating in any other way will be disqualified from this (and possibly future) event(s)!
That about covers it, if you have any questions, comments, concerns, please pm, Adrastos or myself on the site and we'll get back you ya ASAP,
Let the Posting begin!